First off, what is a Blog Hop? I was never exactly clear on the definition or purpose but Linky Tools provided this definition:
What is a blog hop?

A blog hop is a linky list that is SHARED ON MULTIPLE BLOGS.
When several blogs put the same linky list code on their blog, the
exact same list appears on each blog.

Blog visitors can submit their entries on any blog that contains the list.
The entries will appear on each blog where the list resides.

Blog readers see the same list on each blog, and can "HOP" from blog
to blog seeing the same list of links to follow: BLOG HOP!
Ahhhh, now I get it! One thing I have experienced is that it certainly has increased the traffic to my site!
This is the current Blog Hop that I've participated in: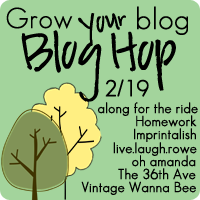 I know I may be a bit late but the linky is open for another day or two! Check out all the blogs that have linked up! All awesome!

Linking Up Here!